Descripción del Producto
FEMME RAPIDCUTS es un suplemento completamente natural de peso pérdida que ha sido diseñado con un solo propósito, para crear el cuerpo rápido y sostenido reafirmante y tonificante a través de la pérdida de grasa. La mezcla única de dos complejos muy eficaces y potentes en el trabajo FEMME RAPIDCUTS sinérgicamente para acelerar la pérdida de grasa a nivel celular y proporcionar una reducción dramática en la hormona del estrés cortisol.
Con FEMME RAPIDCUTS en su plan de que puede esperar a perder hasta 9,9 libras. de la "grasa corporal" no deseados y mejorar la firmeza del cuerpo en tan sólo 12 semanas! FEMME RAPIDCUTS es el primer quemador de grasa diseñado para atacar de manera inteligente, e Ignite Suelte la grasa corporal almacenada a una velocidad nunca antes alcanzados por la ciencia.
FEMME RAPIDCUTS cuenta con un nuevo y moderno de 3 etapas la tecnología de quema de grasa llamada TRI. Este enfoque revolucionario para la transformación del cuerpo femenino es el nuevo estándar en ciencias de la reducción de grasa. Desde el momento de tomar RAPIDCUTS FEMME, usted se sentirá que funciona y rápidamente empieza a ver su cuerpo transformar en una cuestión de días. Estos tres pasos combinados pueden orientar su grasa y ayudar a perder peso como nunca antes!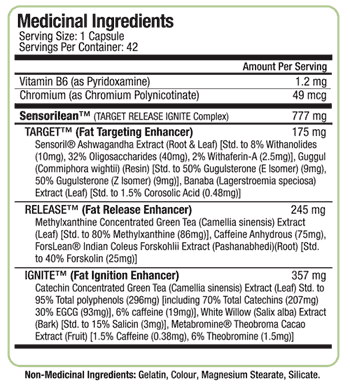 Warnings: not intended for use by persons under 18. Do not use if pregnant or nursing. Consult a health care provider before use if you have been treated for or diagnosed with, or have a family history of any medical condition including (but not limited to)cardiovascular complications, diabetes, or liver or kidney disease, or if you are using any prescription or over-the-counter drug. Do not use if you are using a monoamine oxidase inhibitor (MAOI), selective serotonin reuptake inhibitor (SSRi), or any other product containing ingredients with a known stimulant effect. The recommended dose of this product containsabout as much caffeine as a cup of coffee.